1. It is the responsibility of the student applicant and the parents to ensure the authenticity of the documents submitted.
2. Mapúa MCL reserves the right to:
a. Cancel the admission of the student if after enrollment, the documents submitted were proven to be fake, tampered, or manipulated.
b. Require resubmission of documents due to poor image quality and readability.
c. Request for supporting documents of the ones submitted previously.
3. The submission of the original and hardcopies of the enrollment requirements is until August 16, 2023.
4. As per Article V, Section C, Page 8 of the enclosure to the Department of Education Memorandum No. 3, Series of 2018; otherwise known as the Basic Education Enrollment Policy; all student-applicants will be considered on temporarily enrollment until such time that all original documents are submitted.
5. Parent/s or the duly authorized guardian of the student-applicant is required to submit an Affidavit of Undertaking for the student-applicant to be temporarily enrolled.
6. Failure of the student to submit the original documents after August 25, 2023 may have the following consequences:
a. Non-enrollment in the DepEd's Learner Information System (LIS) for Senior High School.
b. Non-inclusion to the terminal enrollment report to be submitted to CHED for College.
c. Future problems in the processing of Special Order for graduation.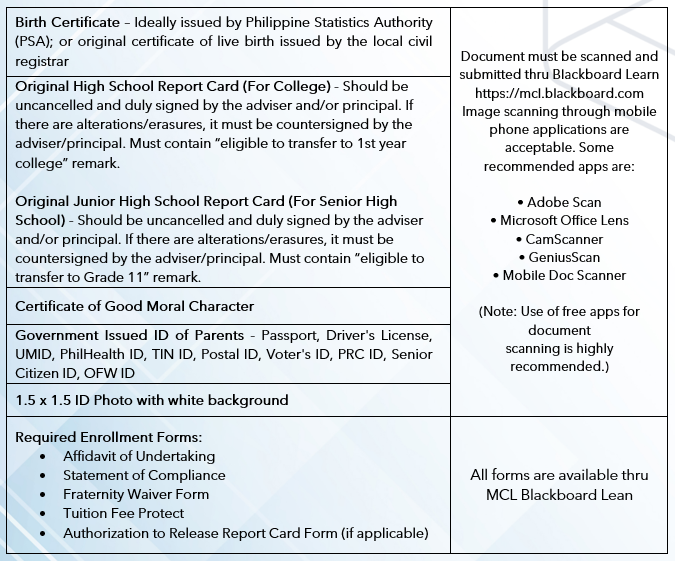 For new students with issues and concerns on the availability of these documents, please consult your Enrollment Adviser to guide you on how to proceed with your application and enrollment.
Next Page: Senior High School Voucher, Entrance Scholarships, and Promotional Discounts