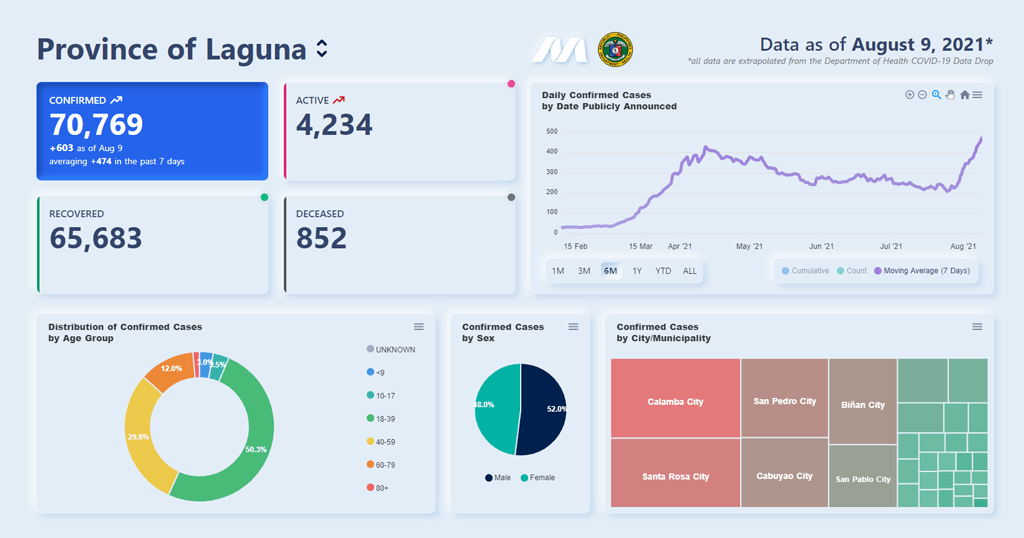 With the recent spike in Corona Virus Disease (COVID-19) cases, the emergence of the Delta variant, and the implementation of the Enhanced Community Quarantine (ECQ) in Laguna, Malayan Colleges Laguna, A Mapúa School's (MCL) College of Computer and Information Science (CCIS) recently relaunched its COVID-19 Case Tracker for the province.
The COVID-19 Tracker is a web-based dashboard that tracks the number of COVID-19 cases and provides important data at a glance. Initially developed for use in Laguna last year, the team from CCIS recently modified a version of the Tracker for Malayan Colleges Mindanao, A Mapúa School, with data from the Davao region.
Spearheaded by CCIS Dean Khristian G. Kikuchi, the team is composed of Prof. Dennis A. Martillano; alumni John Noel J. Corpuz, Mark Anthony V. Hernandez, and John Disonglo; incoming 4th year students Donmarc Bryan C. Salcedo and Janrey C. Valenzuela; and incoming 3rd year student Job J. Lipat.
"This CoViD-19 Case Tracker for the Province of Laguna is our way of contributing valuable information to our fellow Lagunense as we continue to face the challenges of this pandemic," said Dean Khristian G. Kikuchi of CCIS, who first thought of developing the dashboard after experiencing frustration while monitoring daily figures of new cases around the start of the pandemic in 2020.
Through this COVID-19 Case Tracker, the CCIS team provides relevant information on the ongoing COVID-19 cases in the province down to the level of cities and municipalities. By highlighting the number of recovered cases and remaining active cases, they aim to continue giving hope to everyone living through the pandemic.
"I am proud of our students, alumni, and faculty members in coming up with this timely and useful application, an authentic OBE at work," added Dean Kikuchi.
The relaunch of the tracker in Laguna goes hand-in-hand with MCL's preparations for its Flexible Learning Options, as a Blended Learning Option with limited face-to-face classes for laboratory courses will be offered once approved by the Inter-Agency Task Force (IATF), Commission on Higher Education (CHED), Department of Education (DepEd), and Local Government Units (LGUs).
The COVID-19 Case Tracker powered by MCL CCIS is now available through the home page of the MCL website and directly on the CCIS Tracker Site.