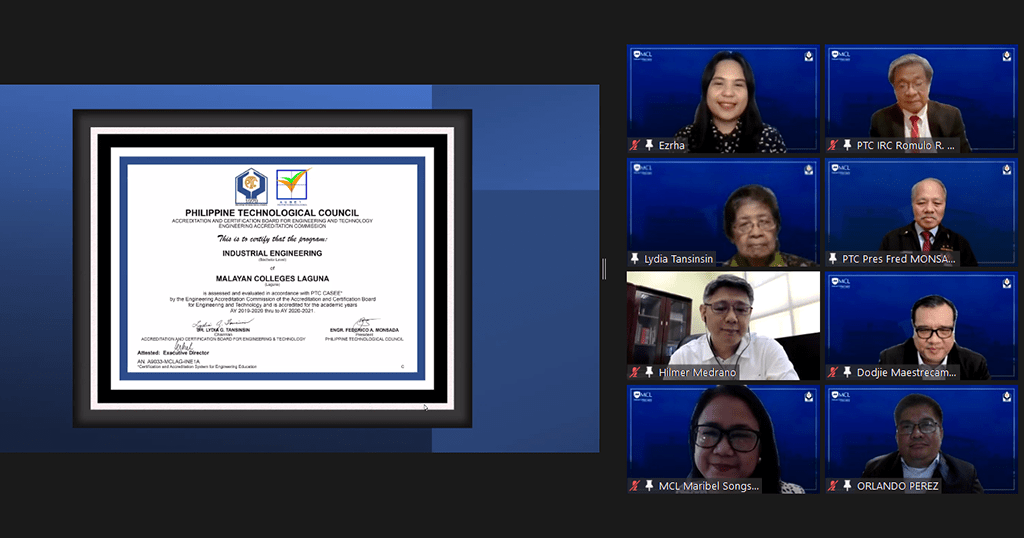 Malayan Colleges Laguna, A Mapua School's (MCL) B.S. Civil Engineering (CE), B.S. Electrical Engineering (EE), and B.S. Industrial Engineering (IE) programs under the Mapua Institute of Technology at Laguna (MITL) have been accredited by the Philippine Technological Council Accreditation and Certification Board for Engineering and Technology (PTC-ACBET) for A.Y. 2019-2020 to A.Y. 2020-2021.
With this, all of MCL's engineering programs are now recognized by PTC-ACBET in accordance with the quality standards of the Washington Accord System.
To achieve this accreditation, MCL's CE, EE, and IE programs underwent assessment and evaluation by ACBET's Engineering Accreditation Commission. To formally acknowledge this achievement, a ceremony was held last July 8, 2021, via Zoom, with the recipients of the awards, Engr. Orlando G. Perez, MITL Dean, Engr. Hermie G. Del Pilar, CE Program Chair, Engr. Maria Criselda B. Loyola, EE Program Chair, and Engr. Ezrha C. Godilano, IE Program Chair, in attendance.
"I sincerely congratulate each one of you for an outstanding performance to have us reach this steeple of excellence," said Engr. Perez. "I am truly proud of your dedication in unleashing the extraordinary smartness and persistence to get you through the challenging phases of accreditation – a noteworthy moment which marked another MCL milestone to be justly honored and remembered. Great job. Continue to persevere and strive for excellence."
Administrators from both MCL and PTC-ACBET were also present, including Dr. Lydia G. Tansinsin, PTC Founding President and ACBET Chairperson, and Engr. Federico A. Monsada, PTC President and ACBET Co-Chair, both of whom delivered their messages for the community alongside MCL's top management.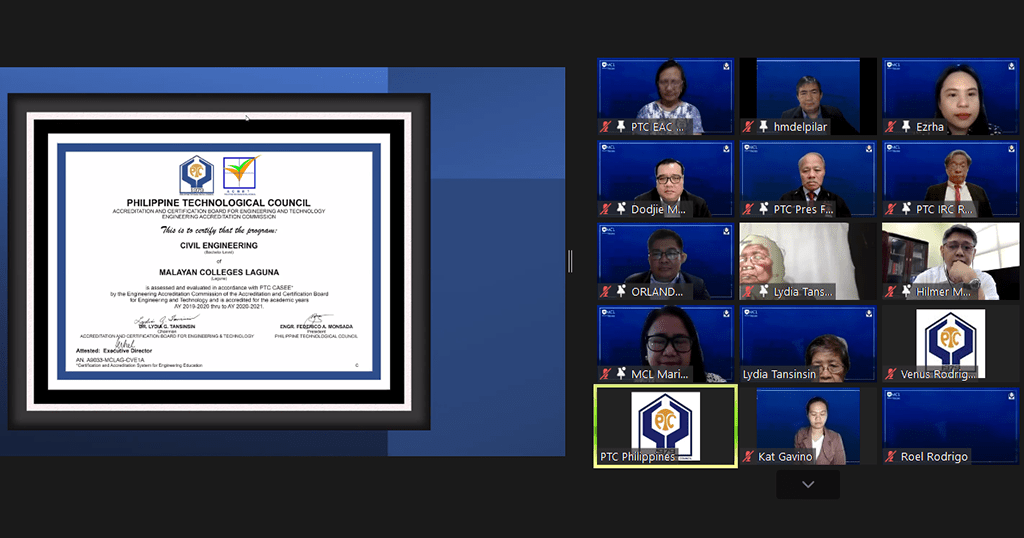 "I would like to congratulate all of you for being accredited substantially equivalent to the Washington Accord System. This system is placed to make sure the graduates of engineering are ready to practice their engineering knowledge with mathematics and other sciences. And this Washington Accord has nine attributes which I think your college has more or less attained the minimum or maximum benefits with the practices that you have made," said Dr. Tansinsin.
Like with previous accreditations received from PTC-ACBET, Dr. Dodjie S. Maestrecampo, MCL President and Chief Executive Officer (CEO) welcomed the recognition with gratitude and enthusiasm, stating that it pushes MCL further to the advancement of the school's mission and vision.
"The PTC-ACBET Quality Assurance System establishes our sense of accountability," said Dr. Maestrecampo. "In addition, it clarifies our roles and responsibilities as providers of higher education as partner of the community and the industry by ensuring that our programs of study and their related support infrastructures are of the highest standards."
To Engr. Maribel G. Songsong, MCL Vice President for Academic Affairs, achieving recognition for three more of MCL's engineering programs was not an easy feat, especially with the challenges presented by the pandemic.
"The way we all responded to this crisis is commendable. It showed us that in these extraordinary times, we possess the necessary qualities to keep us thriving despite the odds. These qualities include resiliency, adaptability, flexibility, and innovativeness," said Engr. Songsong. "We strived to keep our promise to uphold our standards of providing quality education, allowing our students to still engage
and experience quality learning facilitated by our passionate and dedicated faculty."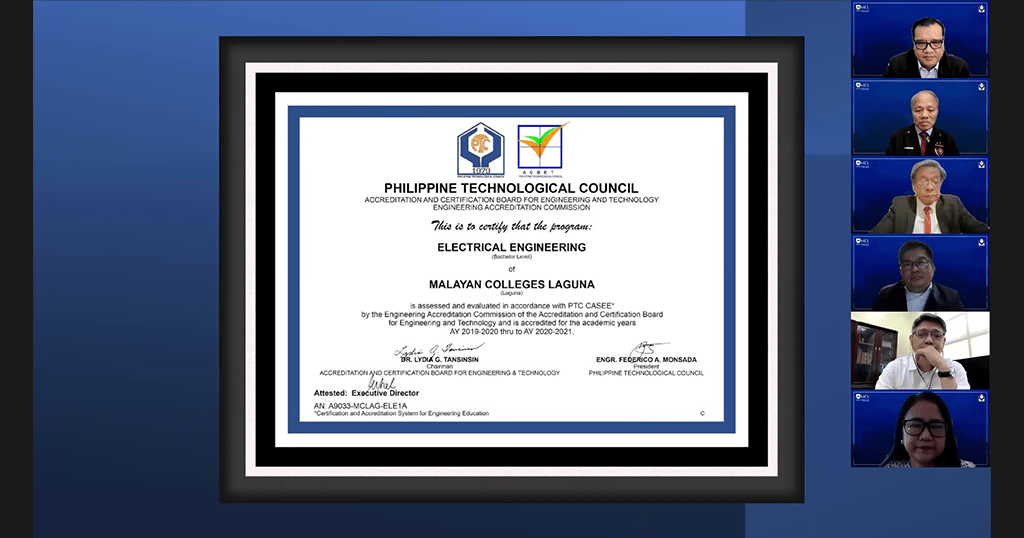 During his closing remarks, Engr. Anthony Hilmer S. Medrano, MCL Executive Vice President and Chief Operating Officer (COO), stated that this achievement is a testament to the institution's commitment to its vision: to become a global steeple of excellence in delivering professional education.
With its Outcomes-Based Education system in place for years, MCL's accreditations for its engineering programs are proof that students are given opportunities to think, be creative, and be innovative, ensuring that after graduation they will be able to practice their profession independently, a feat that not all engineering graduates are able to accomplish.
According to Engr. Monsada, because of the graduate attributes they have achieved, MCL's engineering graduates are qualified to undergo further experience and training on the job, and eventually have the professional competence that will enable them to register with the Professional Regulation Commission (PRC) or with PTC as chartered engineers or as certified engineers, among others.
"This is something that we are very proud of, because PTC now says that when you have the graduate attributes, at some point in time, we are expecting them to achieve the ability to provide or undertake independent practice. And that independent practice is defined very well in international registers with which we are also authorized," said Engr. Monsada.
This means that the PTC-ACBET accreditations are assurance that graduates from MCL's engineering programs are enabled to eventually register as APEC (Asia-Pacific Economic Cooperation) Engineers, ASEAN (Association of Southeast Asian Nations) Engineers, ACP (ASEAN Chartered Professional)
Engineers, or International Professional Engineers, all of which are viable options for graduates to mobilize their engineering profession in an international capacity.
"MCL will strive for excellence and prepare other programs as well to undergo similar endeavors," added Engr. Medrano. "As President Dodjie said, we may not return to the old normal, but we will be ready for the next normal, as One Malayan. Pandemic or not, MCL will continue to strive for Excellence and Virtue."