Last January 2021, Prof. Dennis Martillano from Malayan Colleges Laguna, A Mapúa School's College of Computer and Information Science (CCIS) kicked off his project entitled "MI-AMOR: Mapping and Integration App for MOROS Overseas" in the Bangsamoro Autonomous Region of Muslim Mindanao (BARMM) National Data Challenge.  
The BARMM Data Challenge lasted for five (5) months starting with over 200 presenters and going down to only twenty-one (21) prototypes selected for the final judging. With the remaining participants, four (4) major awards were given: Best Use of Bangsamoro Data Award, Best Use of Data Science Award, Most Relevant to BARMM Award, and Most Practical Solution.  
The BARMM National Data Challenge, in partnership with Data Ethics PH, CirroLytix Research Services, and the BARMM government, with funding support from the U.S. Agency for International Development (USAID), invites data scientists and analysts, application developers, engineers, students, and faculty members to generate ideas for good governance and development through data and technology for application in the Bangsamoro Autonomous Region of Muslim Mindanao (BARMM). The Data Challenge has two (2) rounds. During the first round, all 200 of the participants submitted an abstract of their project. Among them, thirty-three (33) passed the initial evaluation and were able to make it through the second round or the development and pitching stage, during which all of them presented a three-minute video about their idea. After being subjected to a blind peer-review by an independent panel, twenty-one (21) prototypes were selected for the final judging. 
During the BARMM Virtual Data Challenge 2020 Recognition Ceremony with the twenty-one (21) remaining finalists last April 7, 2021, Prof. Martillano won the Most Practical Solution Award which means that his project represented an easily implementable solution, most plausible concept, and simple yet impactful design. Due to the limitations of the COVID-19 last year, he only received his plaque last January 2022. The four (4) major winners were awarded cash prizes along with special recognition from USAID, Asia Foundation, and the BARMM. All of them were also given the opportunity to incubate their solution and present their work directly to the relevant BARMM agencies and Local Government Units for implementation and possible funding.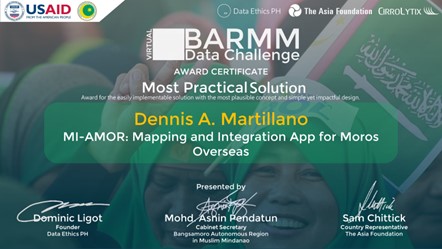 According to Prof. Martillano, Mi-AMOR is a project that aims to provide a mobile and web application that integrates facility to mark abuses/statuses on a dedicated map, and continuously build data that translate into a Visual Welfare Radar for BARMM and can be integrated in current government programs for OFW. He says, "This project would also like to take advantage of using previously recorded data to visually understand and analyze the welfare of our OFW in Bangsamoro Region. I believe that there is an apparent need in providing means to visually mark abuses and problems that will not only make real-time and immediate monitoring, but to encapsulate our situation, our position, and our condition with respect to this issue."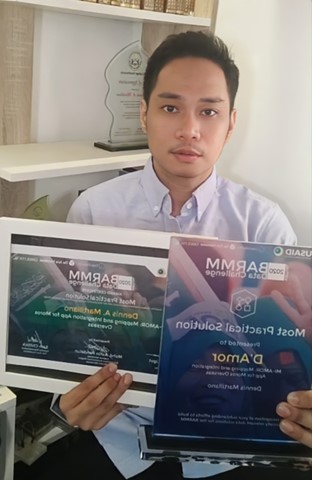 Prof. Martillano shared that he is honored to be one of the peace advocates and selfless data scientists in the country. He says, "I dedicate the award to our BARMM Community, especially to the women and children who are the most vulnerable and need attention and help. We need to continuously use our research skills, technology, and of course our data, to devise possible solutions and identify opportunities to help our community." 
In addition to the National Data Challenge Award Prof. Martillano received last November 2021, he also won Best Paper and Best Presentation in the 2021 3rd International Workshop on Artificial Intelligence and Education. The workshop was sponsored by Xidian University from China and was hosted by their School of Telecommunications Engineering. The annual workshop invites researchers who wish to discuss and publish advances in Artificial Intelligence (AI) and Education. 
Prof. Martillano presented a total of three topics during the workshop: Structural Equation Modeling for Catching SCOTINOPHARA COARCTATA, Wearable Tool for Breathing Pattern Recognition, and Simulated Portable Mesh Network. All papers topped the presentation category with Structural Equation Modelling selected as the Best Paper in the session. 
With Prof. Martillano's awards and advocacy as a data scientist, he proved that both excellence and virtue are embedded in his DNA. MCL will continue to support all contributions in generating new generations of knowledge and remain on its goal to be the global steeple of excellence in professional education and research.