In an effort to explore prospective opportunities for partnership on micro-credentialing programs, Mapúa Malayan Colleges Laguna (Mapúa MCL) looks at prospective partners who could share best practices in developing and implementing this program. 
Assistant Vice-President for External Relations and Global Linkages Prof. James Ronald O. Mesina visited Thailand's King Mongkut's University of Technology Thonburi (KMUTT) last March 17, 2023 along with several university leaders who just attended the Asia Pacific Association for International Education Conference and Exhibition. 
The group was welcomed by KMUTT's Vice-President for Internationalization Dr. Pornapit Darasawang. During the welcome program, Dr. Darasawang presented the history of KMUTT and its journey towards being one of the top universities in Thailand and in Asia. KMUTT's openness to other Asian universities for collaboration and partnership was stressed during the visit.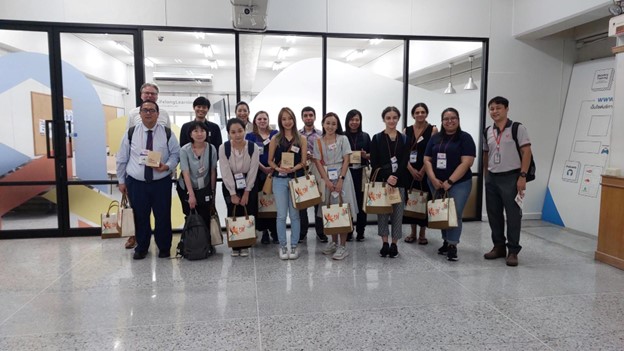 The KMUTT team also toured the participants in several groups such as (1) Outcomes based-education practice: Institute of Field Robotics, where they presented their comprehensive strategy for equipping their students with robotics and automation knowledge and skills, while also establishing an environment that fosters the development of valuable competencies; (2) KMUTT4life: Micro-credentials program, their new business model which aims to revolutionize education by providing a flexible, bite-sized, and personalized approach to learning that can be tailored to the specific needs of learners and can also serve as a lifelong learning; and (3) SDG Policy: Carbon Neutrality 2040, wherein they discussed how KMUTT strives to meet the energy and climate challenge by year 2040 through different steps they're proactively taking such as using energy-efficient appliances, utilization of renewable energy, and green area expansion.  
University officials presented the KMUTT Micro-credentialing department where more than 600 courses and certifications are offered and implemented worldwide. The department handles end-to-end conceptualization and development of micro-credentials that are recognized worldwide.  
Prof. Mesina highlighted the importance of strategic partnerships for internationalization to prepare the stage for Mapúa MCL's global presence. As part of the strategic directions of the institution for the next 10 years, international accreditations must be maintained and in so doing, collaboration with universities in the ASEAN is important emphasizing the commonality of the culture and development journeys of most institutions in the region. The Office for External Relations and Global Linkages will be collaborating with potential ASEAN university partners and KMUTT is one of these. 
KMUTT is ranked #801 to 1000 in the World University Rankings in 2023 (source: Times Higher Education); #246 in the QS Asia Rankings; and between 201st to 300th in the Impact Rankings for the year 2022 (source: Times Higher Education). It specializes in the degree and graduate programs in the fields of Arts, Humanities, Science, Engineering, Education, Business, Economics, Social Sciences, and Computer Science.