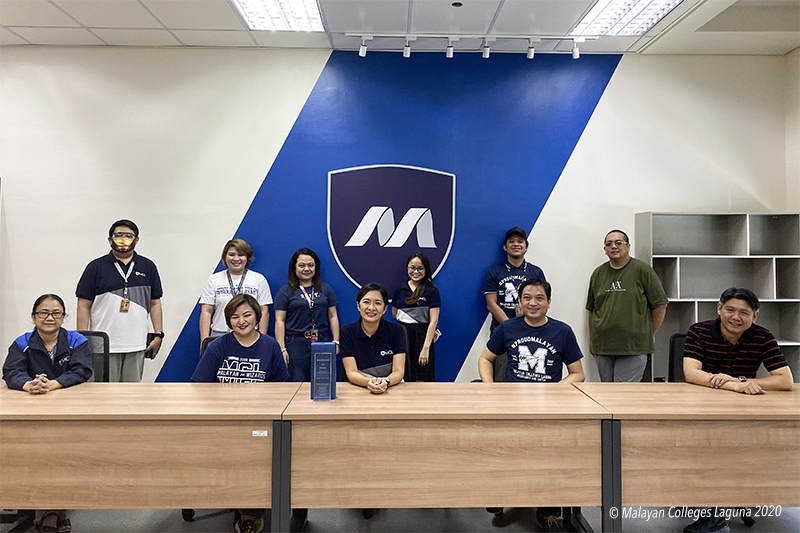 Administrators and staff from Malayan Colleges Laguna (MCL) have been named winners of the Blackboard Award for Professional Development this August 2020.
The award recognizes those who use Blackboard programs to support and enhance their faculty and staff's training and professional development. This can include anything from creative learning opportunities to on-the-job training in the newest technologies and should display an organization-wide dedication to innovative development programs.
Founded in 2005, the annual Awards recognize and honor innovation and excellence in the Blackboard global community of practice, where millions of educators and learners work every day to redefine what is possible when leveraging technology. Winners are selected by a cross-functional team of Blackboard experts.
The recipients from MCL are Asst. Prof. Abigail Joy Rodelas-Angelia, Director, Office for Educational Content Management (OECM); Ms. Carina Victoria T. Adanza, Assistant Vice President, Office for Human Resources and Administrative Services (OHRAS); Mr. John Mark L. Almarez, E-Learning Coordinator; Asst. Prof. Raychelle R. Artuz, Director, Center for Service-Learning and Community Engagement (CSCE); Asst. Prof. Khristian G. Kikuchi, Dean, College of Computer and Information Science (CCIS); Prof. James Ronald O. Mesina, Assistant Vice President for Academic Services and Director, Office for Strategic Partnerships and Global Enagement (OSPGE); Dr. Roel C. Rodrigo, Director, Learning Environments and Innovations Office (LEIO); Ms. Pearl Stephanie Ulep, OSPGE Officer; and Ms. Sharyl B. Zarate, Mathematics Cluster Coordinator of MCL Senior High School (MCL-SHS).
"Designing an employee development program aimed at making co-workers shine and succeed despite a challenging backdrop is a rare experience. We may only get to do this at a time of a global pandemic!" Asst. Prof. Angelia shared. "I am grateful to this team for the push they gave to achieve the goals of the projects under the #samaOLL program — Learning During the Quarantine (LDQ), Interactive Learning Assets for Digital Delivery (iLeaD), self-paced Blackboard courses for MCL faculty, and MCL Lifelong Learners. Most of all, I admire the grit and positive mindset of the MCL community at such a difficult time. We inspire each to grow together as a team, everyone included, #samaOLL."
The program name "#samaOLL" is a play on the modern Filipino saying "Sana all" and OLL, which stands for Opportunities for Lifelong Learning.
"We're pleased to honor this year's Blackboard Award winners for their commitment to improving the educational experience for all learners through EdTech and sharing these insights with the broader community," said Lee Blakemore, Chief Client Officer and President, Global Markets at Blackboard. "We're proud to partner with institutions who are innovating to advance student success."
MCL's team was announced alongside other Blackboard winners during TLC Asia Pacific, Blackboard's annual user conference held virtually last August 26 to 27, 2020.
For more information on the Blackboard Awards, please visit this website.