Last December 3 to 4, 2022, 66 students from the Senior High School (SHS) department of Mapúa Malayan Colleges Laguna (Mapúa MCL) attended the Virtual Culture, Language, and Environment Program (VCLEP) 2022 organized by the Centre of Foundation and Continuing Education of Universiti Malaysia Terengganu in collaboration with the National Department for Culture and Arts Terengganu.  
VCLEP 2022 was designed to provide a comprehensive overview of the rich and diverse cultures of Malaysia. The event aimed to introduce the students to Malaysia's unique cultural heritage, language, and natural environment. It also included interactive sessions, presentations, and discussions that helped the students gain a better understanding of the country. 
The two-day virtual event was attended by students from Mapúa MCL as well as by students from neighboring countries in Southeast Asia, making it an international event. This gave the students the opportunity to interact and connect with their peers from diverse backgrounds. 
The participants were able to exchange ideas and share experiences from their home countries through the conducted group discussions. This helped them develop a better understanding of their similarities and differences. The program also encouraged the students to develop a global perspective and appreciate the value of diversity and multiculturalism. 
Maia Yasmien Cristobal, one of the participants, shared how they were also given the opportunity to introduce the Filipino culture to the other attendees. Their group's presentation was about the Philippines' traditional clothing. "Despite the challenges of limited preparation time, our team was able to execute our ideas effectively and was rewarded with first place," Maia shared.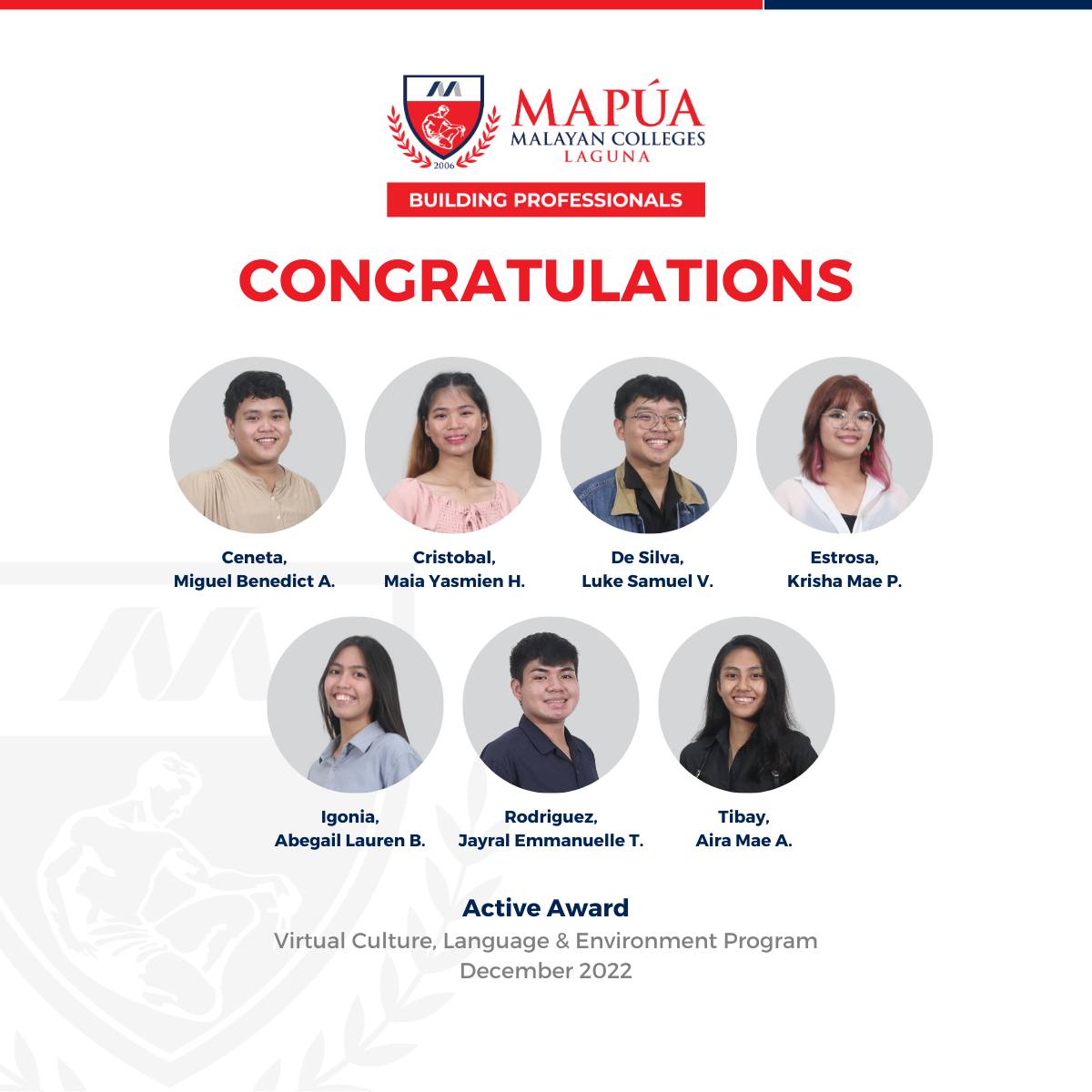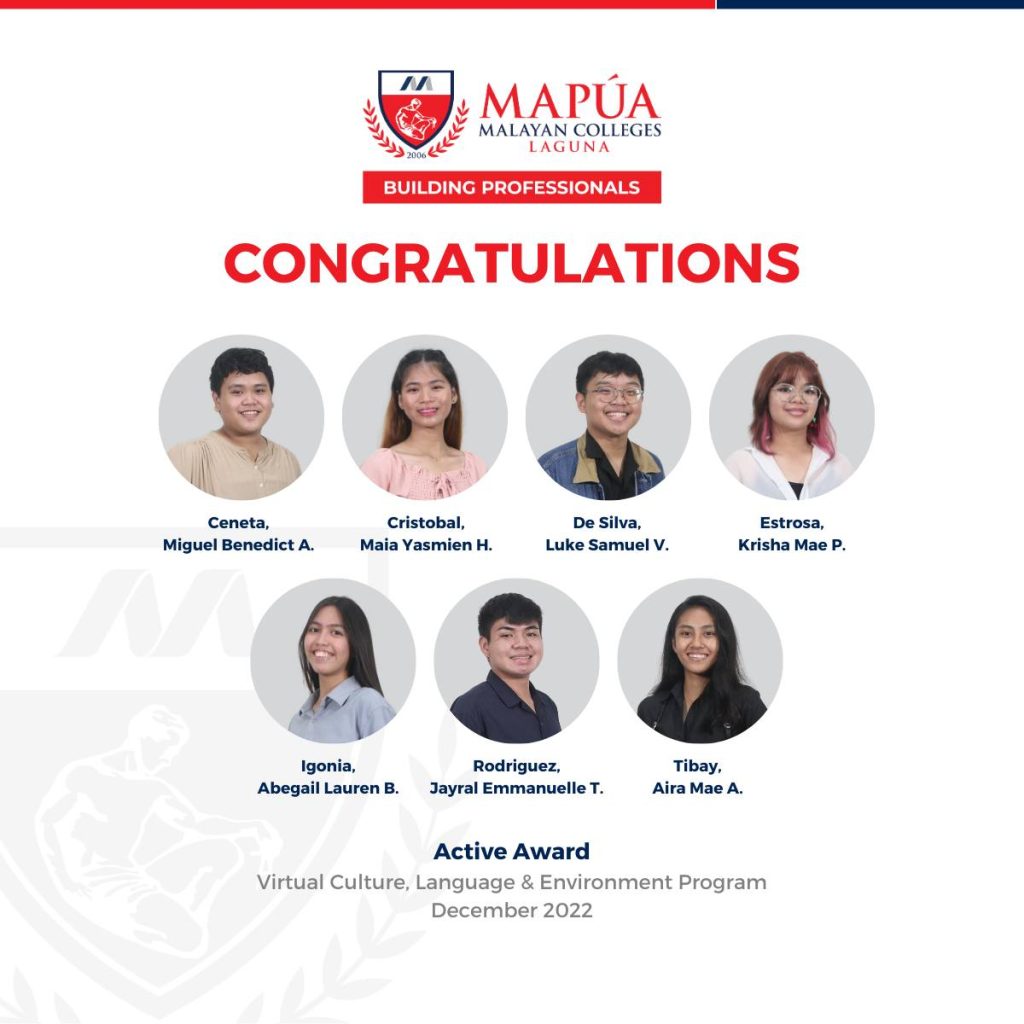 "I was thrilled to learn that our collective hard work led to success," Ms. Cristobal added. Fellow Mapúan, Krisha Mae Estrosa, was also a member of the group, and through their joint efforts, the group received the 1st Best Presentation Award. Jayrald Emmanuelle Rodriguez and Aira Mae Tibay's group, on the other hand, placed third as Best Presentation.  
Several other Mapúa MCL students were also recognized during the event. Miguel Benedict Ceneta, Luke Samuel De Silva, and Abegail Lauren Igonia were all awarded the Active Award. The Outstanding (Sporting) Award was also given to Gabrielle Marie De Vera, Precious Kaye Ledesma, and Jazmine Charm Magbanua.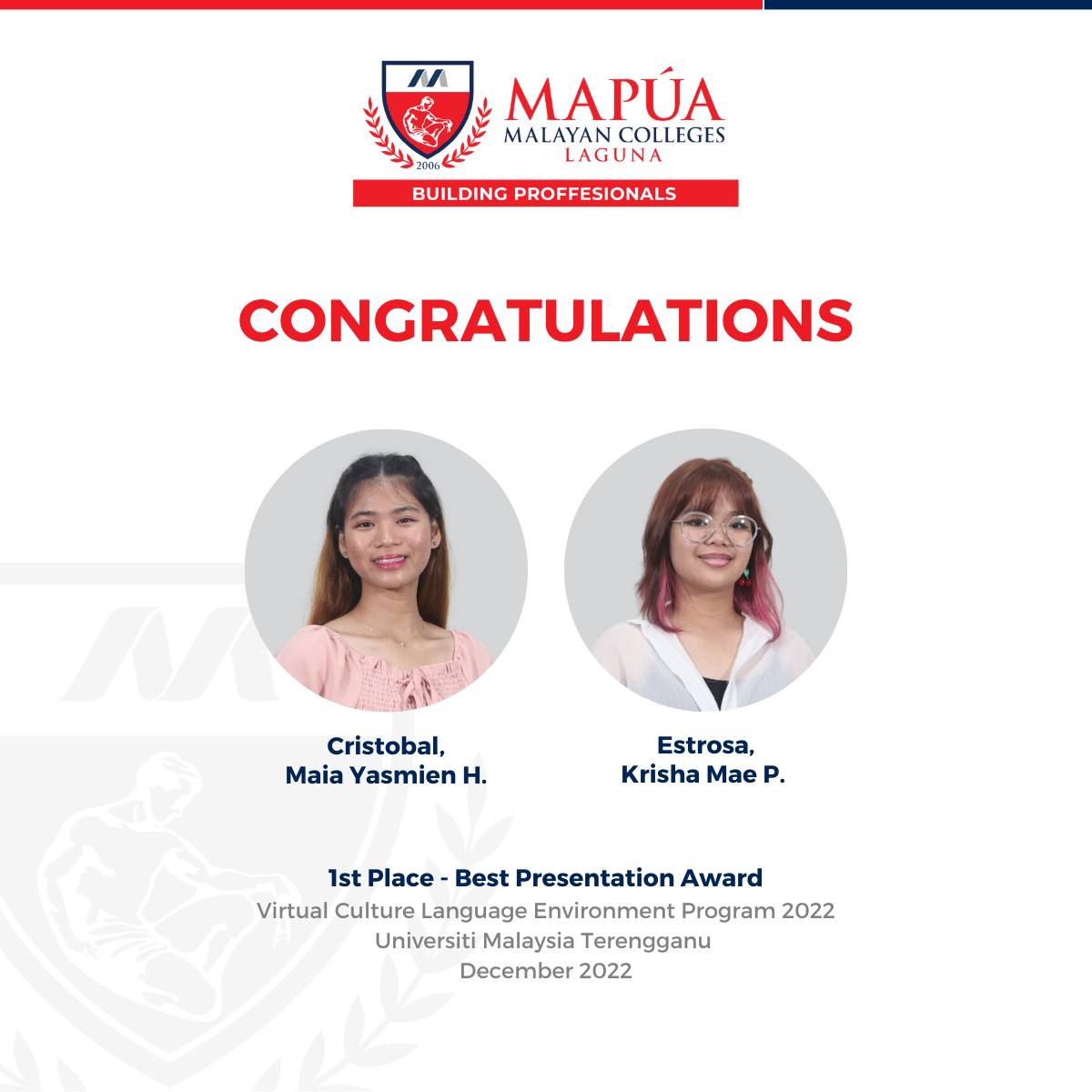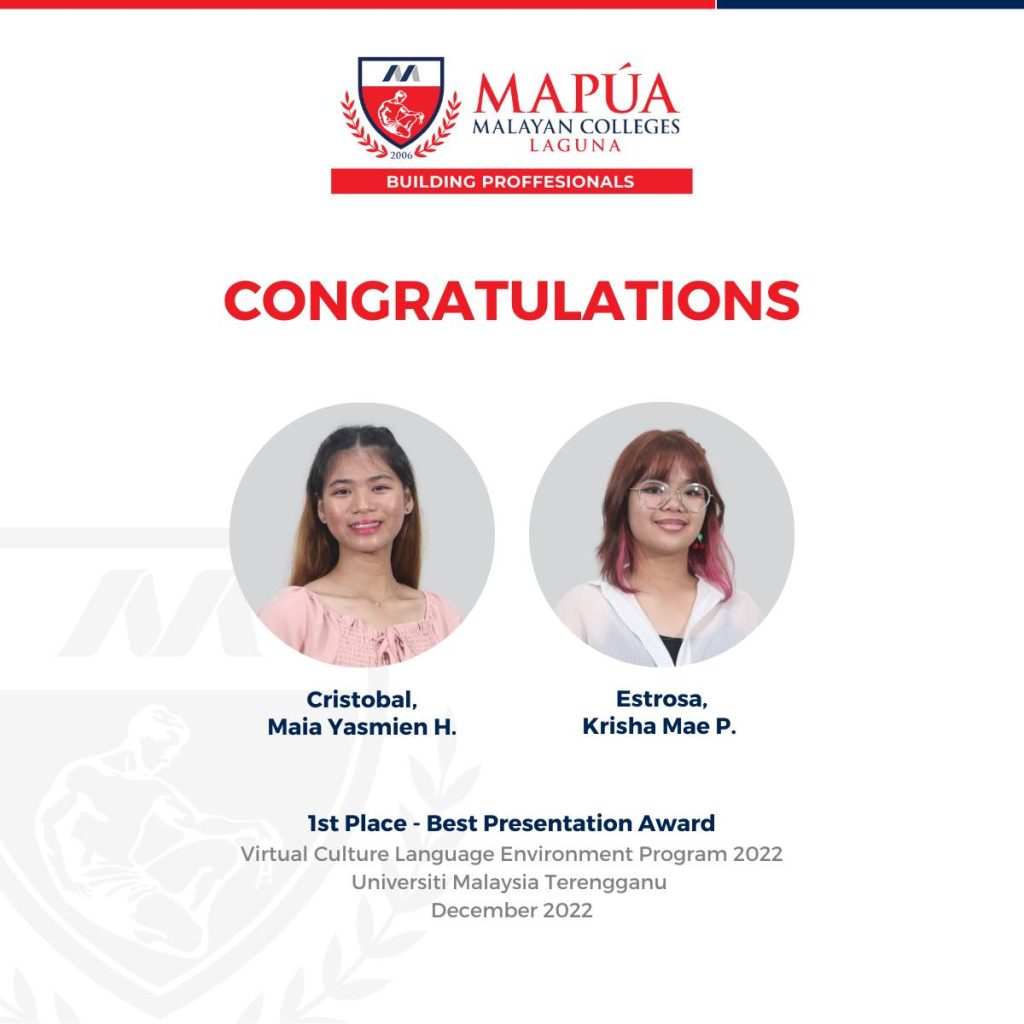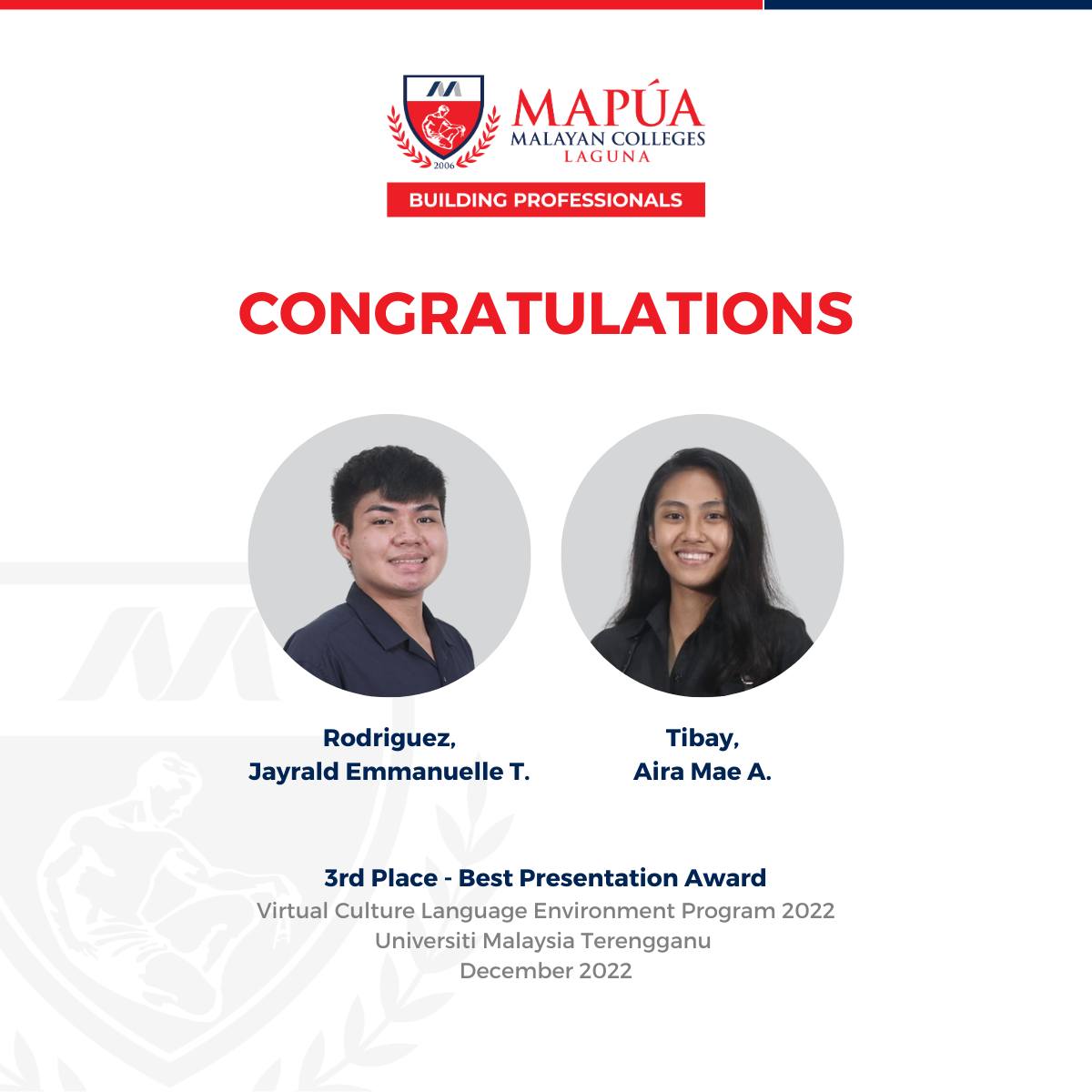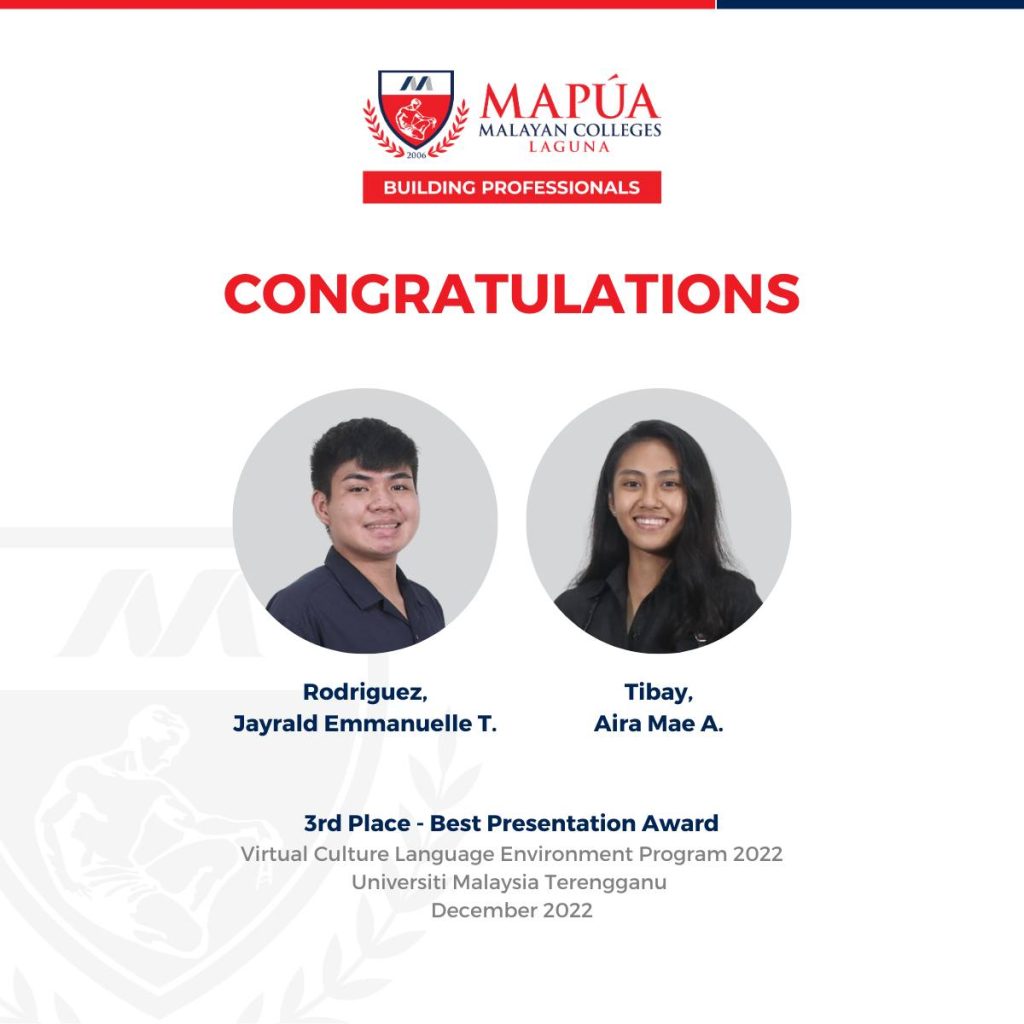 "The overall experience opened my eyes to the possibility of exploring and understanding the cultures, practices, and languages of other countries. As a student of Humanities and Social Sciences, I would be interested in participating in similar activities in the future," Maia concluded. 
Mapúa MCL was well-represented by its SHS students, who successfully demonstrated the Mapúa education that they carry with them. This commendable performance is a testament to Mapúa MCL's commitment to academic excellence and its dedication to providing its students with a well-rounded education. This further motivates Mapúa MCL to continue its active participation in similar events and be recognized as a global steeple of excellence.