August 19, 2021 – Administrators and officials from Malayan Colleges Laguna, A Mapúa School have been named winners of the Blackboard Award for Optimizing the Student Experience Teaching and Learning, which honors institutions whose educational and administrative innovations have markedly improved the total learner experience.
For more than 10 years, the annual Blackboard Awards have recognized and honored innovation and excellence in the Blackboard global community of practice, where millions of teachers and learners work every day to redefine what is possible when leveraging technology. Blackboard Awards are conferred in three categories: Leading Change; Optimizing the Student Experience; and Teaching and Learning.
Blackboard is focused on highlighting client successes and raising awareness throughout the educational industry by celebrating client achievements and milestones. The community centers on educators and administrators who are passionate about using technology in education and collaborating on best practices. The Blackboard Awards are an opportunity to celebrate these accomplishments and help raise standards for the entire community.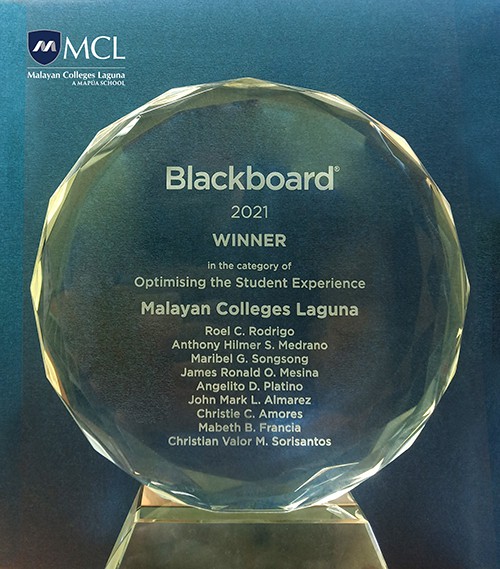 The recipients from MCL are Dr. Roel C. Rodrigo, Director of the Learning Environments and Innovations Office (LEIO); Engr. Anthony Hilmer S. Medrano, Executive Vice President and Chief Operating Officer; Engr. Maribel G. Songsong, Vice President for Academic Affairs; Prof. James Ronald O. Mesina, Assistant Vice President for Academic Services; Prof. Angelito D. Platino, Director of the Student Affairs Office; Mr. John Mark L. Almarez, E-Learning Coordinator from the Learning Environments and Innovations Office; Prof. Christie C. Amorez, Head of the Center for Student Advising; Ms. Mabeth B. Francia, RGC, RPm, Head of the Center for Guidance and Counseling; and Mr. Christian Valor M. Sorisantos, Head of the Center for Student Activities.
"This recognition is a validation of how MCL promotes the welfare and interest of its students. Due acknowledgement goes out to the administrators who have been very supportive in adopting relevant educational tools; the faculty members who exemplified resiliency in adjusting to the demands of online teaching; and the students, together with their parents and guardians, who sustained their passion to learn and excel despite the challenges of today's learning environments," said Dr. Roel C. Rodrigo, LEIO Director. "In the midst of uncertainties, MCL will continue to build professionals by optimizing the students' learning experience, physically or virtually."
"We're pleased to honor this year's Blackboard Award winners for their commitment to improving the educational experience for all learners," said Yves Dehouck, Vice President, Asia Pacific, Blackboard. "We're proud to partner with institutions who are innovating to advance student success."
MCL's team was announced alongside other Blackboard Award winners during Blackboard's TLC Asia Pacific conference, held virtually August 18 and 19.
For more information about this year's winners, please visit this website.