Annual
Activities
A wide array of activities showcasing the students' talents and skills in arts, sports, music and other fields regularly takes place at Malayan Colleges Laguna (MCL). These activities are highly encouraged because the school firmly believes in the holistic development of its students.

Some of the yearly activities include sports festivals, MCL Cup, College Weeks, Foundation Week, and Mr. and Ms. MCL.
MCL Wizards Tournament
Students representing their respective colleges participate in this yearly sports festival. The MCL Wizards Tournament (formerly known as the Rizal Cup) was created in line with MCL's commitment to promote a sound body and to foster camaraderie among students through various events.
The MCL Cup
This annual school activity is an inter high school competition that aims to test and challenge the brains, technology know-how and artistic skills of participating high school students as well as promote sportsmanship and camaraderie among them. It takes place every third week of November. The participants battle it out in different categories, and prizes are awarded to the winners.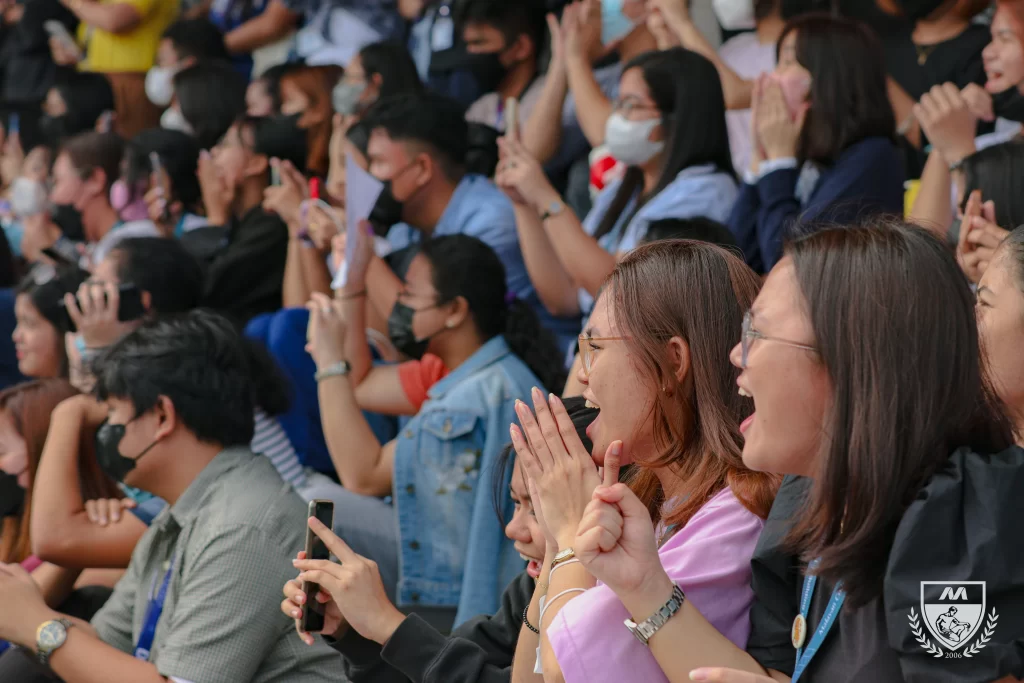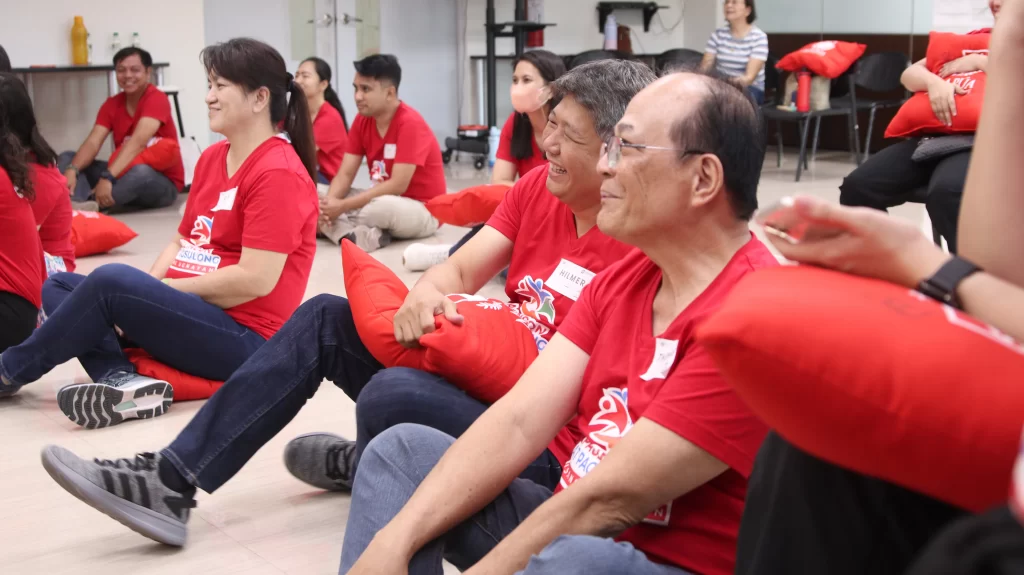 My Future My Choice
Incoming college students are given the opportunity to explore their chosen careers with workshops focusing on the fields of accounting, architecture, communication, culinary arts, engineering, entrepreneurship, information technology, hospitality, maritime education, multimedia arts, and robotics.
Ablaze
Held annually to give new students a warm welcome into MCL, Ablaze is a socials night open to all students. Student and guest performers are invited to bring life to the event, giving the opportunity for freshmen to mingle with their upperclassmen.
Events
The various colleges and departments each provide activities for students from both within and outside of MCL. Here are some of the other events from recent years.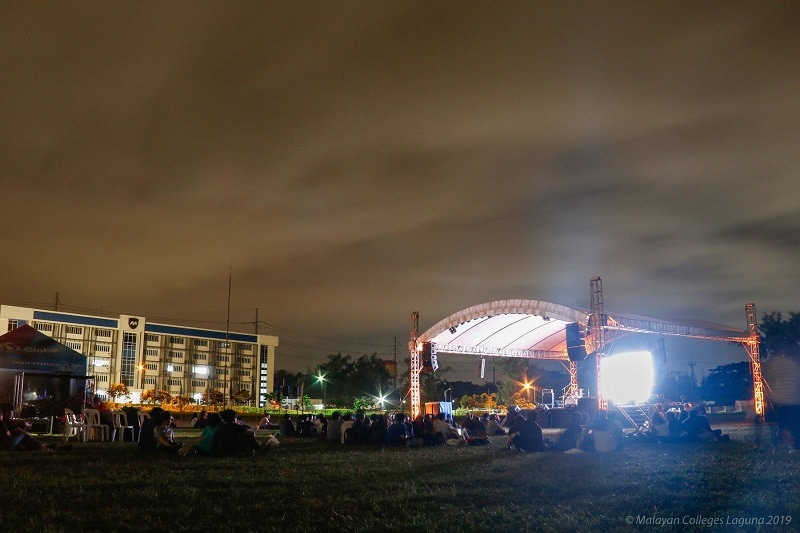 The ASEAN Young Leaders Congress aims to gather young leaders, innovators, peacemakers, youth activists and civil society pioneers from around the South East Asian region in a single forum to share their contributions, experiences, and knowledge on pertinent regional and global issues.
Held annually as part of the Foundation Week, Cinemalayan is an outdoor film festival that showcases films made by MCL students.
Through this event, MCL students and employees pair together to perform in a duet singing competition.
This event showcased the talents of MCL students in commemoration of the institution's 13th Foundation Week.
Held annually, Mr. and Ms. MCL serves as an avenue for representatives from each of the colleges and Senior High School to showcase their beauty and talents, earning the title that would declare them as ambassadors who best represent Excellence and Virtue.
A competition that showcase student's talents in singing and songwriting.
MCL students, faculty and staff showcase their sportsmanship and camaraderie through various Filipino games.
Silakbo
Silakbo, the MCL Battle of the Bands, encourages the students to showcase their authentic selves through their music where even those who do not have the gift of music can celebrate with the artists and identify with their art. The competition opens its doors to all genres of music – may it be rock, pop, classical, etc.
Amplified: Battle of the Bands
An inter-high school competition that provides a venue for students to showcase their musical talents.
Cheerdance Competition
An inter-high school competition that gives students the opportunity to showcase their talents for cheer and dance.
Eventus Chorale: A Festival of Songs
An inter-high school choir competition held as part of The MCL Cup that provides students the opportunity to showcase and develop their talent for live performances.
Gastronomic Challenge
An inter-high school competition that aims to showcase the student's skills in cooking and food preparation.
Paint Your Future: Mural Design Competition
An inter-high school competition that provides an avenue for students to showcase their skills in traditional art, particularly in painting.
Speak Forth: Impromptu Speech Contest
An inter-high school competition that aims to showcase the student's skills in public speaking.
Vibe to the Future: HipHop Dance Competition
An inter-high school competition that aims to showcase the skills and talent of students in modern hip-hop dance.
Events College and
Senior High School Weeks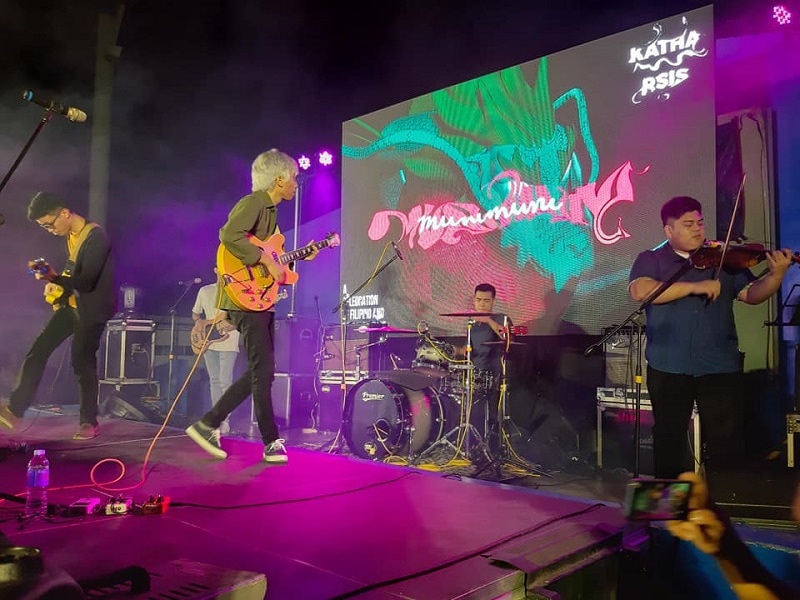 College of Arts and Science Night: KATHA(rsis)
Fellowship night of the College of Arts and Sciences that showcased students' and faculty's talents.
Talk by Mr. Jess Espanola, Emmy Award-Winning Animator
MCL CAS prepared a Freshman Encounter with the Emmy Award-winning Animator of "The Simpsons" and "Futurama" TV shows, Mr. Jess Espanola.
VANS Custom Culture Competition
Competition that showcased the talents of students in shoe design.Photo from the CAS Week 2019: KATHA Facebook page.
MCL Senior High School Week 2019: Going Farther
The MCL Senior High School (MCL-SHS) Week is held annually to allow the students of the community to express their unique skills in a variety of events.
Mages Got Talent
An event for MCL-SHS students to showcase their talents and express their unique skills.
CAPTURE: Photography Design
Organized by MITL, this event showcases the talents and skills of Engineering and Architecture students in the field of photography.
Mapua Institute of Technology at Laguna (MITL) Social Night
For the culminating activity of Engineering students for their college week, MITL invited guest performers as well as their own talented students and faculty for their Social Night.
MITL Cheerdance Competition
Organized by MITL, Engineering and Architecture students compete annually in an exciting cheer and dance competition.
MITL Got Talent
Organized by MITL, Engineering and Architecture students were given the chance to showcase their talents through various performances.
Mr. and Ms. MITL
This event is organized by the Mapua Institute of Technology at Laguna (MITL) to showcase the talents of engineering students in celebration of their college week.
Organization and
Program Events
Pilak Ugnayan
Film exhibition that showcased films produced by MCL students.
Pilak Film Festival
Organized by the Mapua Institute of Technology at Laguna (MITL), the event showcased Filipino films.
TUGATOG: International Airport Design Competition
The United Architects of the Philippines Student Auxiliary – Malayan Colleges Laguna Chapter organized an International Airport Design Competition as part of the celebrations for Architecture Week.
Design Talk
This was a seminar that aimed to share expertise of talented guest speakers Ar. Angelo S. Mañosa and Ar. Emereauldine T. Eliseo in arts and design in celebration of the Architecture Week 2019.
Sa Isla ni Bathala
The student organization SHAPE (Students' Holistic Approach to Performance and Excellence) organized and produced a play titled "Sa Isla ni Bathala" in support for MCL's advocacies.
CULTURED: Vloggers Meet and Awarding
To promote students' skills and artistry in creating great content and editing videos, a vlogging contest and vloggers' meet was held, featuring vloggers who were present to share their experiences.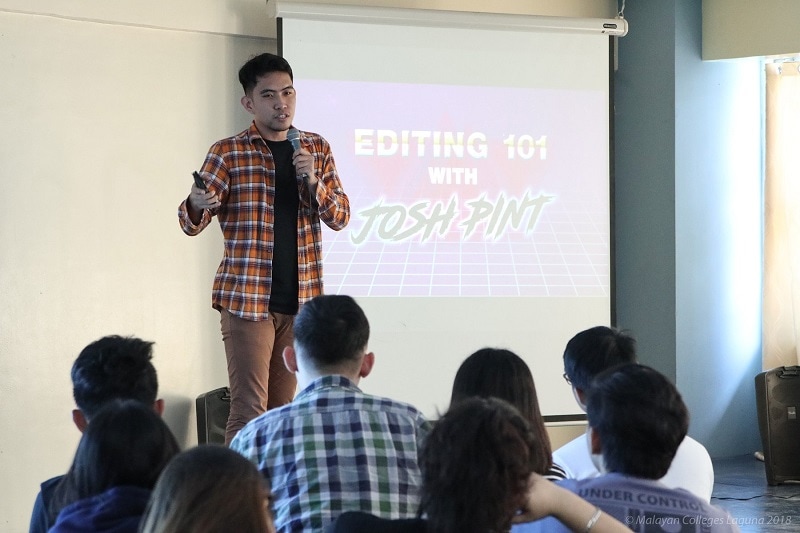 HUM124: Bida Hero Pasahero
Play organized by MCL students featuring the fundamentals of theater arts and in support to MCL advocacies.
156 Expose
This event showcased the outputs of MCL multimedia students in the course MMA156 (Video Editing and Production). The exhibit also featured guest speakers Eunice Gatdula (Huhsmile), Mac Arbodela (Asshulz), and alumnus Levi Miscala.
Paskong Piyesta
In celebration of Christmas, MCL-SHS students showcase their talents and creativity while promoting the tradition of Filipino fiestas.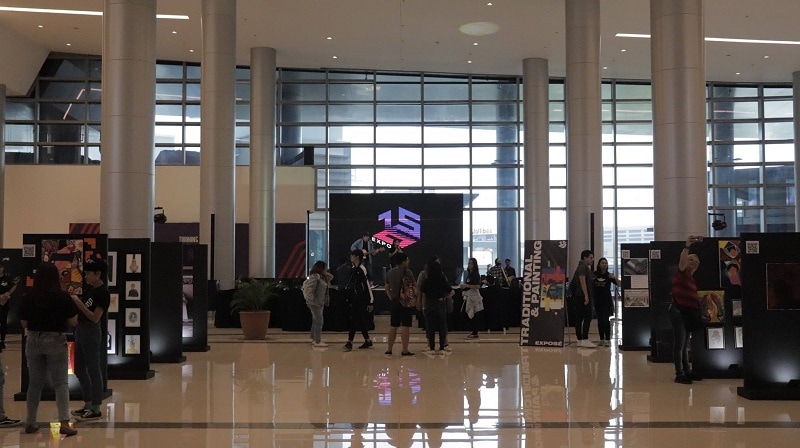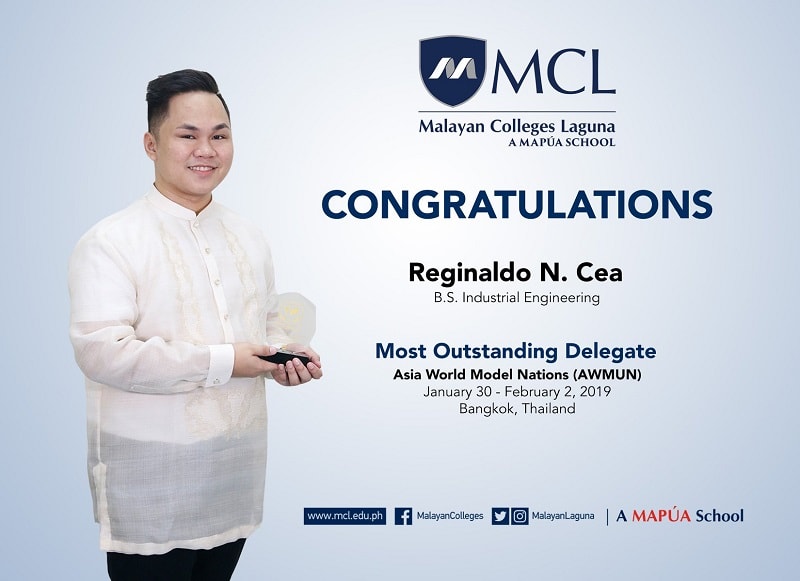 Malayan Dance Crew (MDC) wins 2nd Place in 2019 Anilag Festival's Dance Revolution
Anilag is an annual celebration of goods, commodities, and other crops produced in the province of Laguna. The Malayan Dance Crew, abbreviated as MDC, joined and won 2nd place in the Dance Revolution competition.
MCL student awarded as Outstanding Delegate in Asia World Model Nations
Industrial Engineering student Reginaldo N. Cea won the Outstanding Delegate Award at the Asia World Model United Nations (AWMUN), a Model United Nations Competition held by International Global Network (IGN).
MCL-MMA songwriting pair triumph in Himig Handog 2018
B.A. Communication-Multimedia Arts' student Rhiseo Mhonver "Mhon" P. Lopez and alumna Joana Paula "Japs" C. Concepcion won 4th Best Song at the 2018 Himig Handog P-Pop Love Songs 2018, a songwriting competition organized by the ABS-CBN Network and Star Records.
MCL-SHS SSC Vice President conquers Asia World Model United Nations
Jose III A. Tolentino, then a Grade 12 Humanities and Social Sciences (HUMSS) student, brought home the Most Outstanding Delegate Award from the Asia World Model United Nations (AWMUN), a Model United Nations Competition held by International Global Network (IGN).
MCL freshman wins Ms. Biñan 2018
Stephanie Danielle B. Yap, then a college freshman, won the title of Ms. Biñan 2018, a local pageant that aims to celebrate the culture and people of Binan, a city in Laguna, Philippines.
CAS production team wins in Gawad Obra Film Festival
The team of Prof. Bart Andrew S. Mendoza, Patricia Amor B. Dominguez , Lorenz James R. Diamante, Ma. Victoria G. Salvio, Marc Vince A. Gregorio, John Israel D. Bulawin, Emmanuel D. Fernandez, Johann Axell B. Remigio, Guenalyn G. Manlunas, Mary Mae Alyssa M. Medina, Lavin T. Santos, and Marianne Kamille V. Uy won two major awards at the Gawad Obra Film Festival is an annual film competition for universities in Laguna, Philippines to showcase their creative masterpieces.
MCL students reign in Anilag Festival 2018
Millicent S. Bungcasan won as Binibining Laguna 2018 2nd Runner-Up, Jason Gabrielle M. Terry as Ginoong Laguna 2018, and Maru Joi O. Pasion as Binibining Laguna 2018 3rd Runner-Up at the Anilag Festival 2018.
Architecture student wins in national fashion design competition
Mac Kenley Jones V. Jucom won as the Grand Winner and Best Designer at the National Architecture Week: Indakan Runway Competition hosted by United Architects of the Philippines (UAP) and its Student Auxiliary (UAPSA).
School Handbook

SY 2022-2023