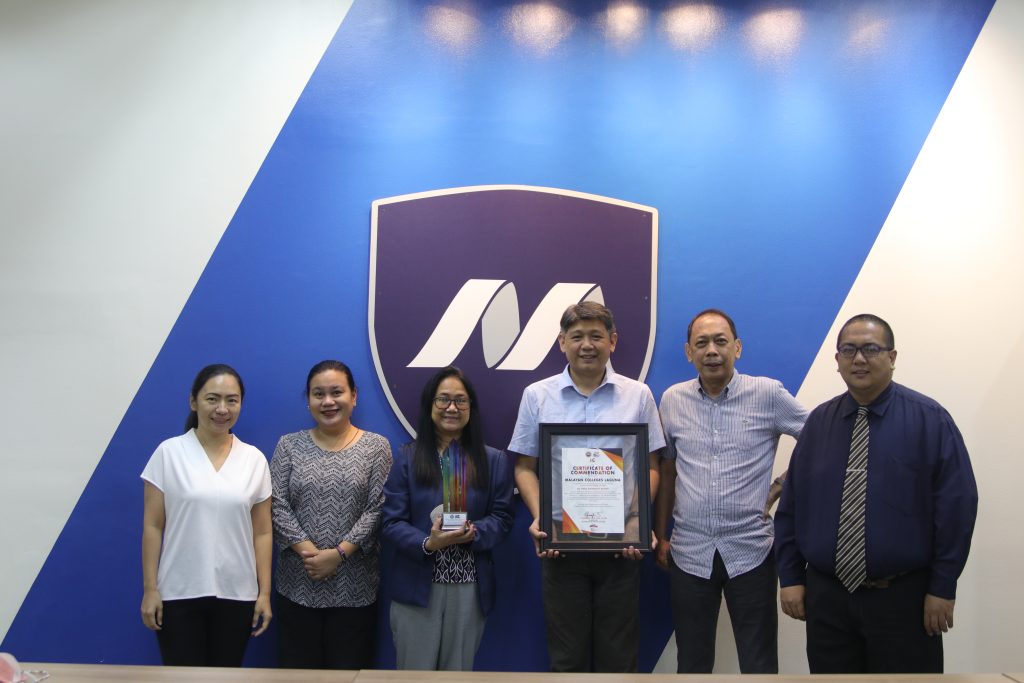 Malayan Colleges Laguna, A Mapúa School (MCL) received a Certificate of Commendation and a trophy last August 26, 2022 from the Commission on Higher Education (CHED) for its achievement in the Quacquarelli Symonds (QS) Star Rating in 2020. The QS Stars university rating system uses a comprehensive and in-depth framework to rate and compare university performance across a broad range of key criteria. It's designed to provide valuable insights into areas of strength and weakness, driving best-in-class standards in higher education (from the QS website.) 
The recognition was part of CHED's commemoration of the 55th Founding Anniversary of the Association of Southeast Asian Nations (ASEAN) through a celebration with the Philippine higher education sector.  
Citing the letter addressed to the MCL President and Chief Executive Officer Dr. Dodjie S. Maestrecampo, Atty. Lily Freida C. Macabangun-Milla, CESO IV, Director of the CHED International Affairs Staff stated that the "ASEAN ICONS is a recognition of "exemplary Philippine Higher Education Institutions (HEIs) that championed the global reputation of the Philippine higher education through their commendable performance in recognized international rankings and ratings, trailblazing efforts to advance internationalization of HEIs, and innovative initiatives to contribute to the country's economic and societal goals. As a champion of internationalization and a leader in elevating the global reputation of Philippine higher education institutions (HEIs)" as the primary consideration of MCL's commendation along with other notable institutions.  
On the same communication, the CHED-International Affairs Staff (IAS) made the invitation to the ASEAN Philippine Higher Education Internationalization Champions Of Nation-building and Sustainability Awards Night (ASEAN ICONS) last August 26, 2022 in Hilton Hotel, Pasay City. 
Last September 16, 2022 MCL Assistant Vice-President for External Relations and Global Linkages, Prof. James Ronald O. Mesina, paid a courtesy call to Atty. Lily Milla at the CHED Office to receive the award and renew MCL's commitment to collaborate with CHED and other institutions in promoting international cooperation. Currently, the Colleges and the Office for Strategic Partnerships and Global Engagement are catching up on the commitments made to our international partners and affiliates. 
MCL continues to prove its dedication to its motto, "Excellence and Virtue" by constantly seeking growth, development, and global competitiveness. Being able to achieve QS Star Ratings for Employability, Facilities, and Social Responsibility and Inclusiveness is relatively unique and impressive for a young institution like MCL. Based on the performance-based metric system, MCL was awarded an overall rating of three (3) QS Stars by the Quacquereli Symonds (QS) Star Ratings. 
According to Dr. Maestrecampo, the internationalization of MCL is one of the key strategies that improves the quality of teaching, learning, and research activities of the institution. He said, "Our partnerships with Arizona State University and the Business College of Athens are examples of these efforts to further enhance our business, health science, and maritime programs. Furthermore, the Quacquerelli Symonds (QS) Star Ratings that MCL received in 2020 is a testament to the achievement of the best-in-class global standards in the areas of teaching, innovation, engagement, and employability of all our programs."