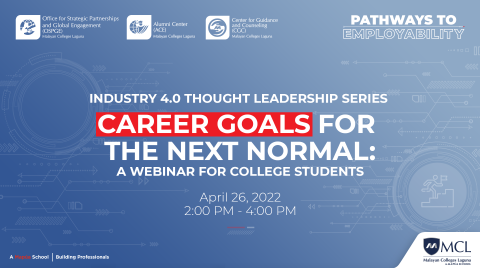 Last April 26, 2022, the second part of the webinar series hosted by the Center for Guidance and Counseling's with the title, "Career Goals for the Next Normal: A Webinar for College Students", explored the current working landscape and the adversities it presents to the fresh graduates of the next normal. The panel of speakers were headed by Ampleon Philippines Human Resources Specialist Ms. Maricel Salivio, People Schools Workforce Development Trainer Ms. Joanna Marie Pareja, and RCBC Activations and Strategic Partnerships Head at the Digital Enterprise and Innovations Group Ms. Kirsten  Nagrampa who all possess expertise in talent acquisition, employee relations and strategies, and financial literacy.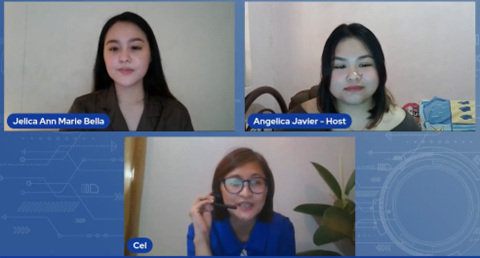 "You have to know what industry you would like. Where do you want to work?" Ms. Salivio imparts on the audience and to fresh graduates about to embark on a new chapter of their lives.  
Meanwhile, Ms. Pareja highlights proactivity, resiliency, adaptability, analytical thinking, and above all, empathy as the five (5) essential and in-demand skills that the current workforce looks for in their applicants, adding that amidst the rise of technology, these human skills are and will always be indispensable. Ms. Nagrampa ties the program together with tips and advice for fresh graduates in starting their journey towards financial success by emphasizing the habits of being practical, realistic, and disciplined when it comes to handling money, especially when one is poised to receive their first paycheck.  
Leaving the audience on a hopeful and helpful note, the first leg of the webinar series is concluded hosted by 3rd Year B.A. Communication students, Ms. Jelica Ann Marie Bella and Ms. Angelica Mae Javier.