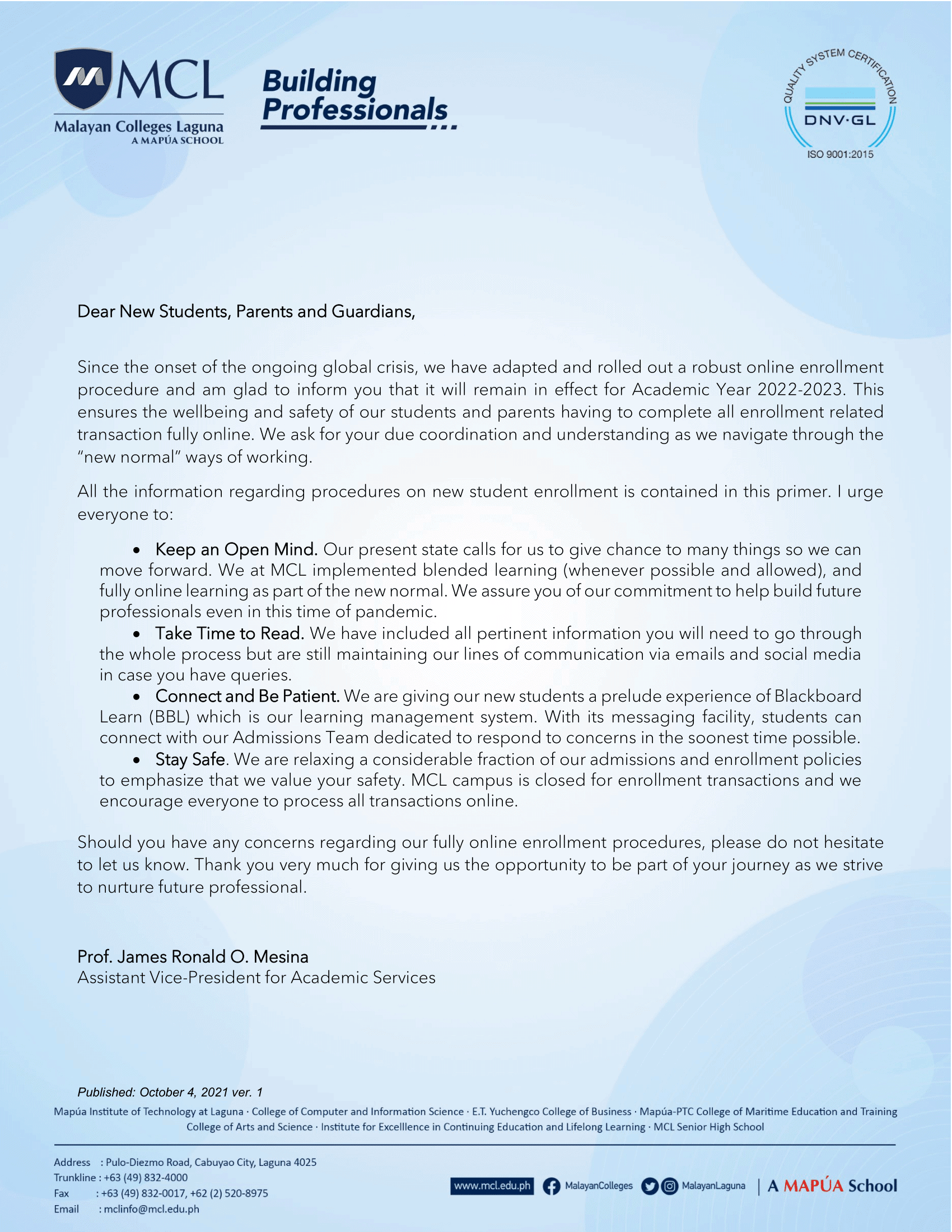 Dear New Students, Parents and Guardians,
Since the onset of the ongoing global crisis, we have adapted and rolled out a set of robust online enrollment procedures. I am glad to inform you that it will remain in effect for Academic Year 2021-2022. This ensures the wellbeing and safety of our students and parents having to complete all enrollment related transaction fully online. We ask for your due coordination and understanding as we navigate through the "new normal" ways of working. 
All the information regarding procedures on new student enrollment is contained in this primer. I urge everyone to:
Keep an Open Mind. Our present state calls for us to give chance to many things so we can move forward. We at MCL implemented blended learning (whenever possible and allowed), and fully online learning as part of the new normal. We assure you of our commitment to help build future professionals even in this time of pandemic.


Take Time to Read. We have included all pertinent information you will need to go through the whole process but are still maintaining our lines of communication via emails and social media in case you have queries.


Connect and Be Patient. We are giving our new students a prelude experience of Blackboard Learn (BBL) which is our learning management system. With its messaging facility, students can connect with our Admissions Team dedicated to respond to concerns in the soonest time possible.


Stay Safe. We are relaxing a considerable fraction of our admissions and enrollment policies to emphasize that we value your safety. MCL campus is closed for enrollment transactions and we encourage everyone to process all transactions online.


Should you have any concerns regarding our fully online enrollment procedures, please do not hesitate to let us know. Thank you very much for giving us the opportunity to be part of your journey as we strive to nurture future professional.


Prof. James Ronald O. Mesina
Assistant Vice-President for Academic Services
May 27, 2021